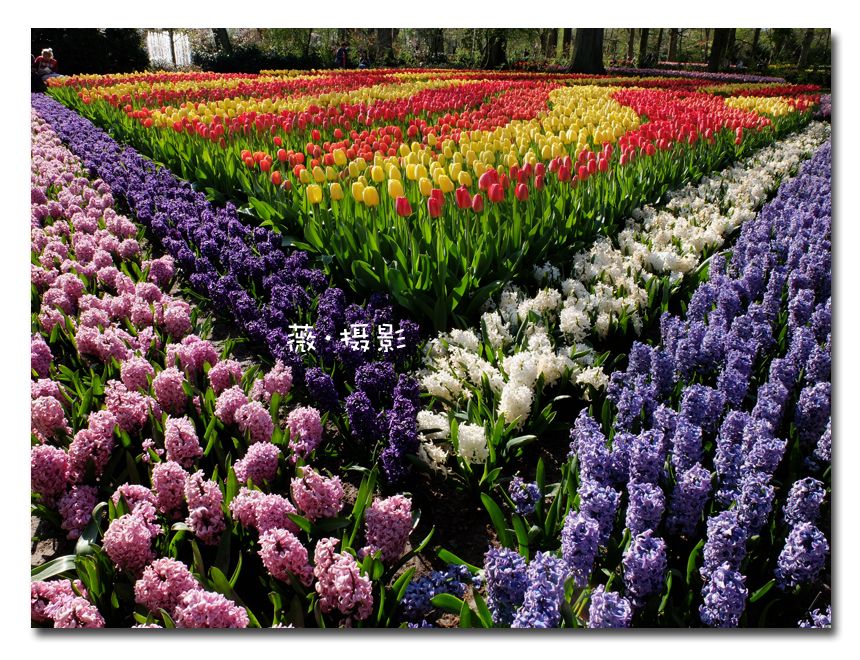 Tulips in Keukenhof
It's been a fun week, it's not easy to travel with an infant, but it wasn't that hard too, not as eventful as I thought it will be.
Bringing a baby slows everything down, we achieved only one destination everyday, take our time to stop and rest and enjoy the day.
Below is our itinerary before I go into details of everything, well maybe not everything, just things I think it's worth the mention.
Day 1:
Arrived in Schiphol Airport at 7am
Got our luggage, and bought train tickets to Amsterdam Centraal (Euro5.10 per pax per trip)
Westerpark to check in to our apartment for the week
Went groceries shopping for the first thing, bought baby diapers and water supply
Went to Amsterdam Centraal to get ourselves OV Chipkaart for public transport in Netherlands
Went to Prinsengraght to have lunch at Pancakes! Amsterdam (Euro19.70 for two)
Walked along canal, stopped by Dam to buy shoes, Singel for Flower Market
Got simple groceries, and got home for dinner
Day 2:
Have breakfast in Piq Niq in Joordan (Approximately Euro17)
Took bus to Haarlem
Had lunch in Stempels (Euro28.80 for two)
Visited Teylers Museum (Euro12 per pax including audio guide)
Took train to go back to Amsterdam
Had dinner in The Pancake Bakery (Euro 28.70)
Day 3:
Breakfast in Winkel 43 (Euro 14.70)
Took bus to Keukenhof (Euro 28.50 per pax for combi ticket)
Had lunch in Keukenhof (carrot cake, hot chocolate, herring, sandwich with ham and a beer)
Went back to Amsterdam
Had dinner in Kop Van Jut (Euro 46.20 for two)
Day 4:
Woke up way too late, bought bread from Westerpark Bakery to have breakfast at home
Went to De Kas for lunch (Euro 66 for two)
Enjoy some snacks at Museumplein
Sunbathing in front of Concertgebouw
Had dinner in De Blauw Hollander (Euro 37.75)
Day 5:
Woke up super early to catch at train at 7.17am to Antwerp
Enjoyed the architecture of Antwerpen Centraal
Visited weekly exotic market at Theatreplein
Had lunch at Cafe 't Putke (Euro 25.50 for two)
Visited Cathedral of Our Lady (Euro 6 per pax)
Visited Plantin-Moretus Museum (Euro 8 per pax, Euro 2 for an audio guide)
Had dinner at Maurice & Dietrich at Grote Markt (Euro 24.60 for two)
Took a 7.30pm train back to Amsterdam
Day 6:
Woke up way too late, and bought croissants from Albert Heijn Market (because Westerpark Bakery was closed) for breakfast
Had lunch at Cafe-Restaurant in de Buurt (Euro 34.60 for two)
Visited Rijksmuseum (Euro 17.50 per pax)
Had dinner again at Cafe-Restaurant in de Buurt (Euro 43 for two)
Day 7:
Had breakfast at home
Walked to Westergasfabriek and enjoyed King's Day
Had hotdog in the park (Euro 5)
Had a super nice latte in Espresso Fabriek
Walked around the town just to immerse ourselves in the festive mood
Bought cheese at Kaasland
Walked back to Westerpark
Had dinner at Bella Storia (Euro 20 for two)
Day 8:
Woke up early, prepared ourselves and went to airport
Said goodbye to this wonderful city