Finding an accommodation didn't seem so difficult before baby came along, as long as they're reasonably convenient, reasonably hygiene and reasonably priced, I'm up for that. And I usually move from a place to another, never have I stayed put in one apartment for entire week.
But baby changes everything. (*music* *point at the baby and blame him*) :P
We were in Amsterdam from 21st April to 28th April. King's Day falls on 27th April, and it's a public holiday in Netherlands. Accommodation was a little bit tight for the weekend, which made finding a perfect accommodation a little bit more harder.
After searching high and low in Airbnb and also amsterdamapartments.com, I shortlisted a few and start contacting them. After a quite a fair bit of communication, we ended up in this lovely apartment in Westerpark, own by a nice lady named Steff.
There were a few firsts for me,
First trip with baby
First reservation on Airbnb
First visit to Westerpark area which is not a well known attractions but I've really learned to love it. (Will cover that in another post)

I've set a lot of criteria in my search,
Washing machine: Simply because travelling with baby means occasional dirty laundry is unavoidable. Besides, having a washing machine means we can pack lesser clothes.
Kitchen: Simply because I need to boil water and foresee we will make simple meals a day or two when baby needs to sleep and rest
Heater: Weather can be pretty unpredictable, the last thing you want is to fall sick during the trip. It's important to keep baby warm at night
Ground floor: Amsterdam buildings were mostly old buildings with very steep and narrow staircase. I wouldn't want to haul the heavy luggages, stroller and the baby up and down everyday.
Dryer (optional): Not the most important item but it'll really help me to reduce my luggage weight even more :)
Bath tub (optional): It's just easier for me to bathe baby
Unfortunately, I didn't get item 4 and 5 fulfilled, but I'm satisfied still.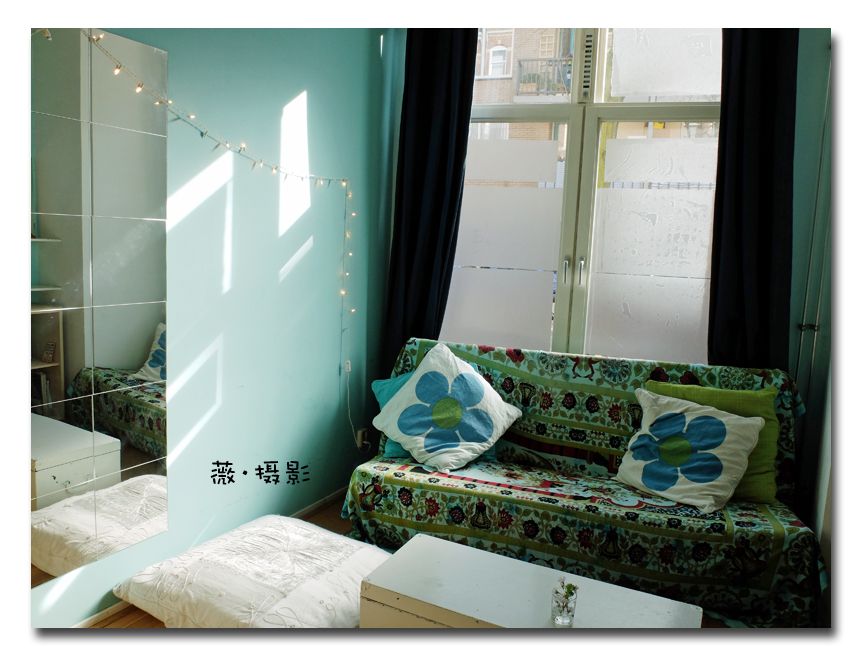 Living room
Living and dining area (I have no place to hide the stroller)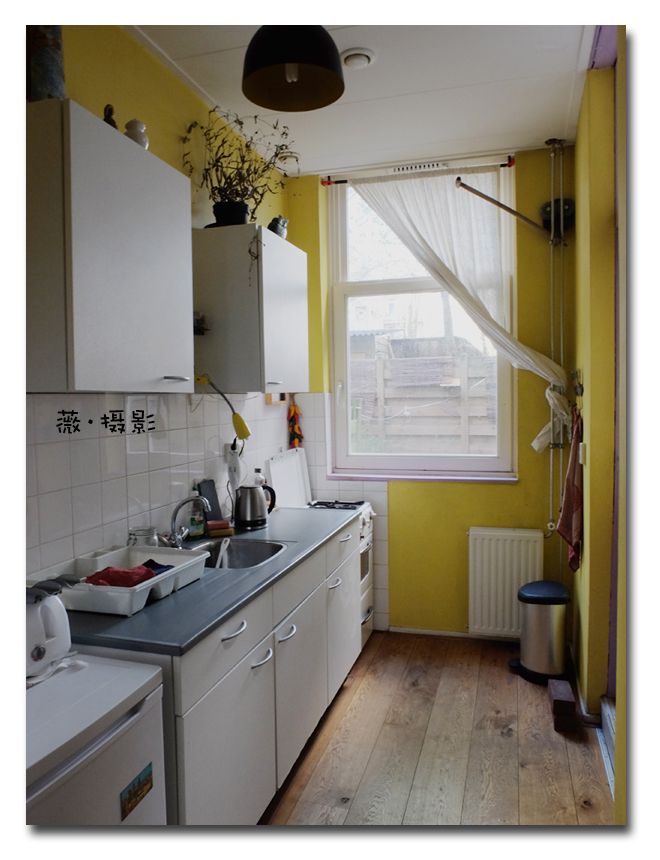 The Kitchen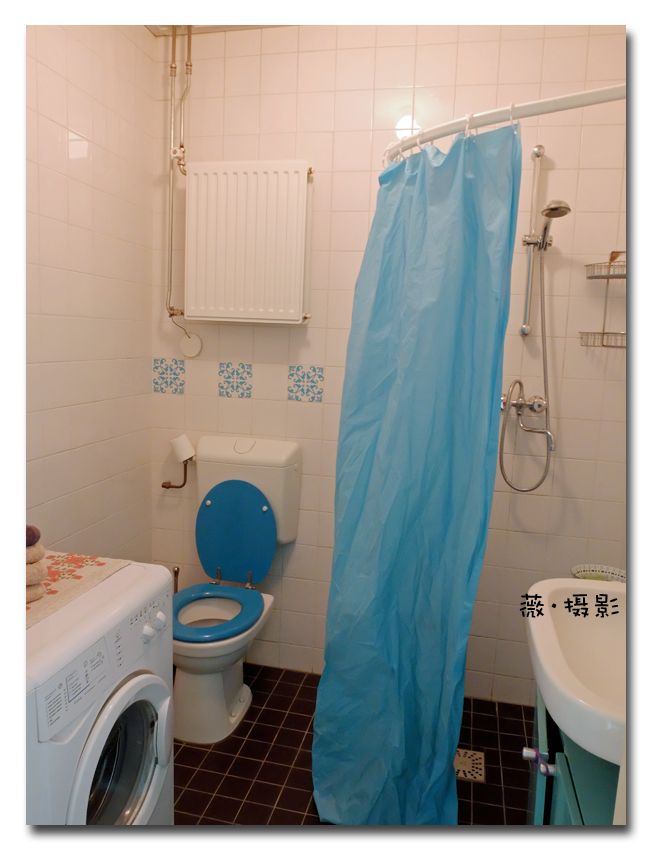 Bathroom with the washing machine inside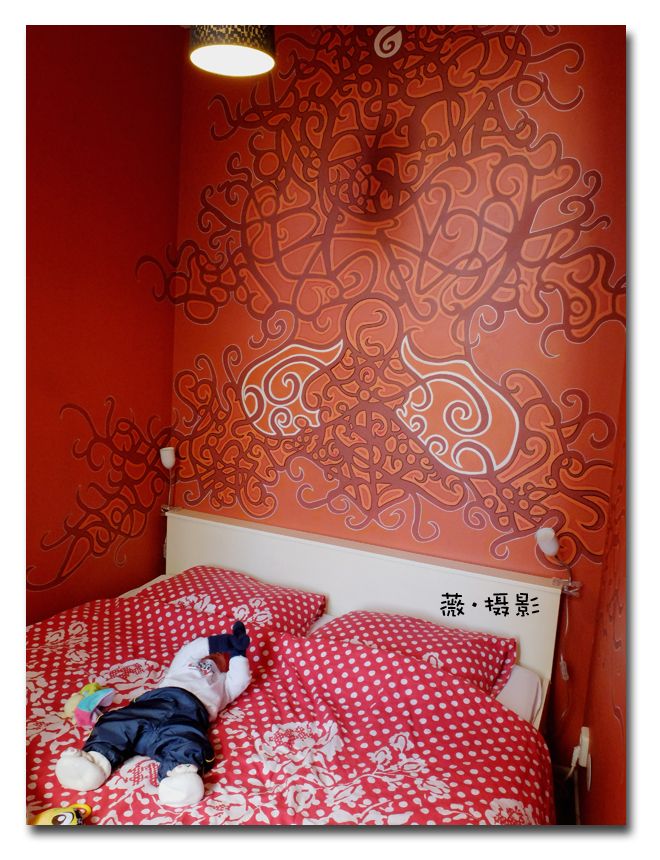 The bedroom (No safe place to put my baby except the bed while we're busy taking pictures)
This was a 40m2 apartment, pretty small but it's more than enough for a holiday trip. The bedroom was really small so we have our luggages lying in the living room. There's no TV in the apartment but it's not important to us at all, we didn't spend much time at home.
I almost ended up in another apartment which was situated at a more convenient neighbourhood, but it didn't have Wifi access. But according to The Man, Wifi is the most important thing and asked if I could find another one. Hmph! Found one I have, but a lot more work was done.
We were really satisfied with this apartment. Before I went I thought it's not very convenient. But turned up, bus 21 travels frequently between Amsterdam Centraal to Westerpark. Besides, tram 10 travels between east and west of Amsterdam which brought us to Museumplein and Leidensplein almost everyday during our stay.
The neighbourhood was quiet and peaceful. It's walking distance to the beautiful Westerpark, and great food and bakery and groceries stores are nearby too! I have nothing to complain about, really.
If you're interested, this is the
link on Airbnb
.