Staying at home and taking care of a baby doesn't mean you have to deprive yourself from good food. In fact, I really need food to make me happier! Happy mommy happy baby!
Pasta is one of the easier option for meal when I'm having the meal alone because you don't have to think of what dishes to go along. Besides, it's really quick.
Since baby recovered from his flu, he has become too happy to fall asleep. He got all excited, smiling and laughing when I lie down beside him to pat him. That makes the process more difficult than ever.
When he was finally asleep at 2.45pm, my stomach was already complaining!!! I need food inside real quick! I've only a few ingredients in the fridge so I decided to make a pasta.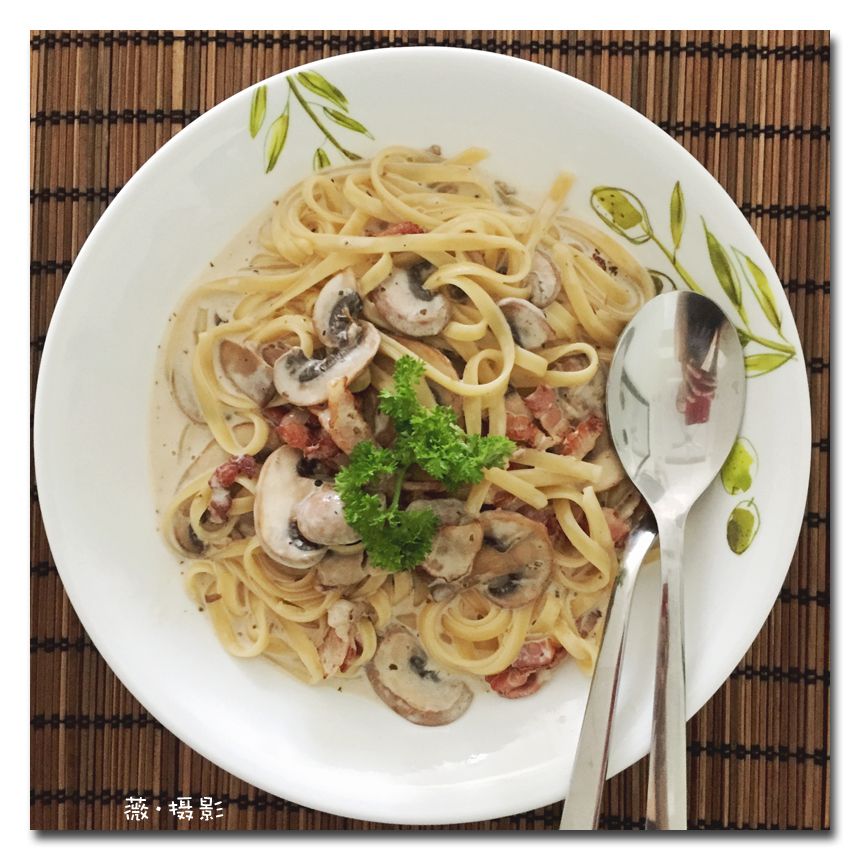 Creamy bacon and mushrooms pasta (taken with iPhone)
Ingredients (for one):
Two strips of bacon

Two cloves of garlic

Three brown button mushrooms

Pasta of your choice

Cooking cream

Chicken stock

White wine (optional)
Boil water and cook pasta in a pot.

While #1 is ongoing, cut mushrooms and mince garlic.

Heat the pan, before the pan got heated up, use a kitchen grade scissors to cut bacon into small pieces directly onto the pan.

Pan fry the bacon till it's golden brown, put in garlic and mushrooms, fry until the mushrooms are nicely brown and no more moistures are coming out from them.

Add white wine and reduce it (if you decided to add white wine)

Add chicken stock and cooking cream (I've finished my homemade chicken stock, so I added the cubes instead), salt and pepper to taste. If you like creamier and cheesier pasta, you can shred some Parmesan cheese into the mixture. Simmer the mixture till it's creamy and thick.

By now the pasta should be cooked. Drain the water and put them into the pan.

Stir everything together.

Serve. Take a photo.

Serve.
Everything in 15 minutes :)
My tummy is finally happy.