I have to say, this has got to be the best french toast that I've ever made in my kitchen!
I have some leftover Greek yoghurt from the desserts that I have no idea what are the other things that I can do with them. I found out on the websites, some people recommend to dress the french toast with Greek yoghurt instead of cream. Sounds good!
So, here it is!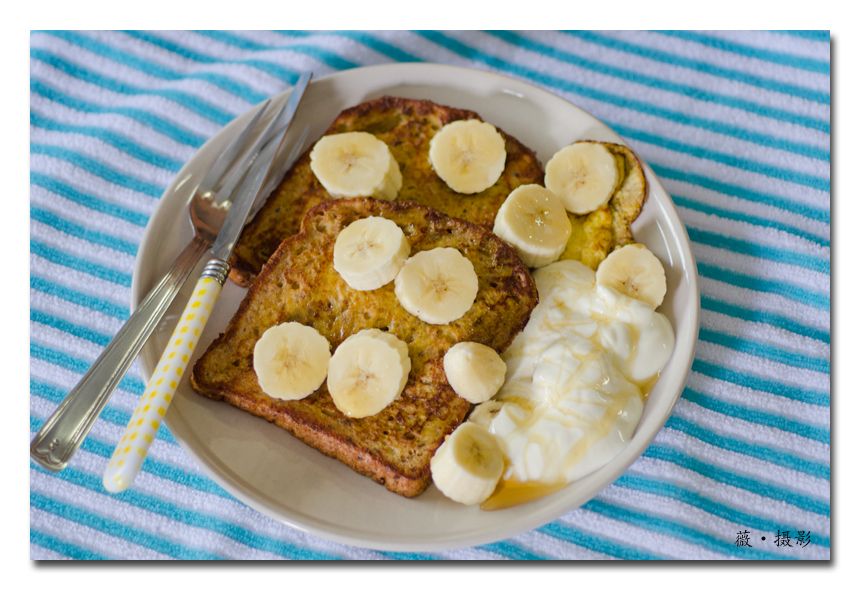 Ingredients (for one pax):
2 slices of Multi-grain bread
Banana (or any fruits of your choice, i.e. strawberries, blueberries, apples etc.)
1 Egg
2 tbsp Yoghurt
1 tbsp or more Milk
1/2 tsp Salt
1/2 tsp Caster sugar
Honey or maple syrup
A pinch of ground cinnamon
Butter
Methods:
In a bowl, mix the egg, milk, salt, sugar in a bowl.
Heat the pan and butter the pan.
Coat bread with the egg mixture and toast it in the pan. (If you happen to have leftover egg mixture, you could fry the egg mixture as well)
Meanwhile, mix yoghurt with cinnamon.
Dice the banana.
Toast the bread until evenly brown.
Arrange the french toast nicely on a plate with banana and yoghurt dressings.
Sprinkle honey or maple syrup as much as you like.
Serve.
This is the best French toast ever! =)