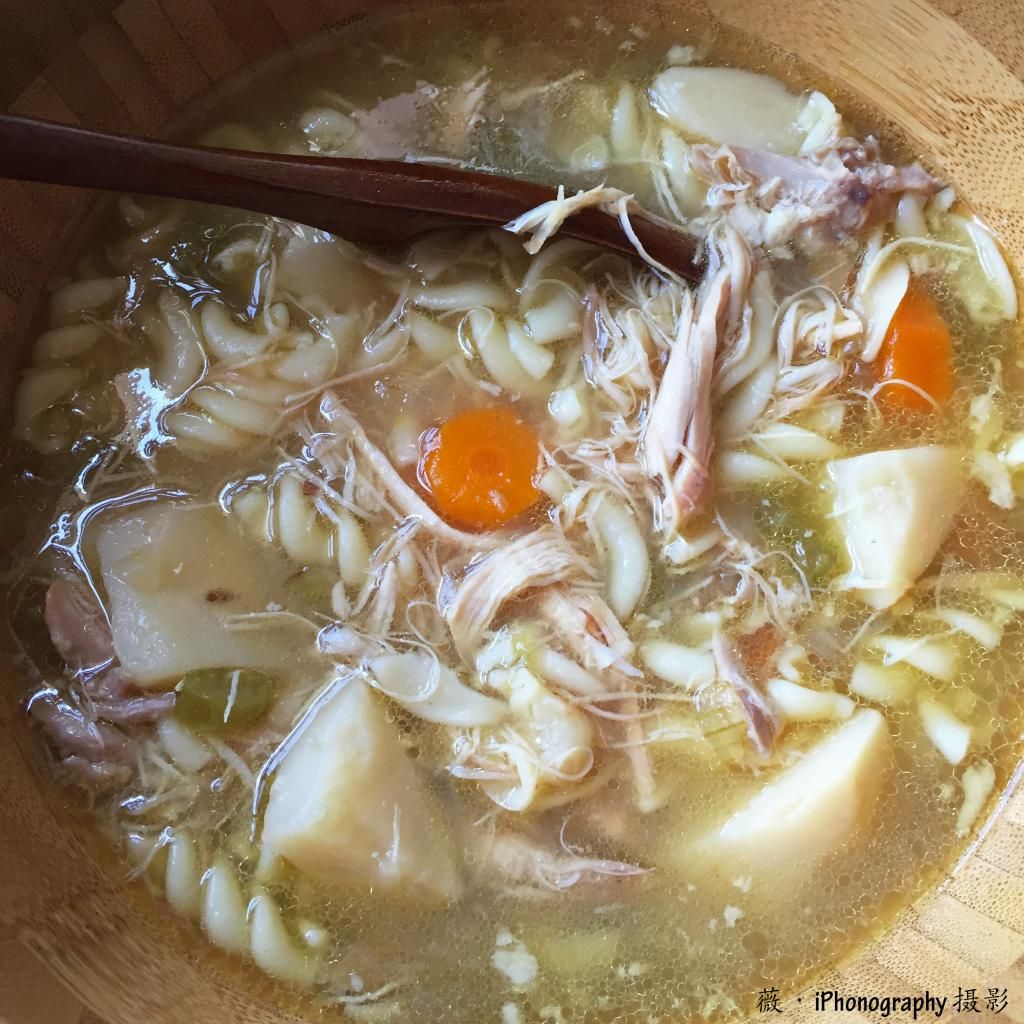 Slow Cooker Chicken Stew
I was considering very hard whether should I upload this ugly piece of photo of my chicken stew. But I did it anyway, because this is a reality of being a mom. Nothing comes out as expected.
I used to cook a more
elaborated version of chicken stew
, but hey, I really don't have time for this. (Just like I really don't have time for my food photography, I'm embracing the iPhone photography now.) So slow cooker it is. My lunch and dinner depend on it!
Ingredients (for one pax and two meals):
2 skinless chicken thigh (just the upper part)
1 potato
1 carrot
3 stalks of celery
1 small onion or 1/2 of a big onion
2 cloves of garlic
Chicken stock (approx. 400ml)
Pasta of your choice
I'd like to add cherry tomatoes and bay leaves which I've totally forgotten when I went out for groceries shopping on Wednesday
Methods:
Dice potato, carrot, celery and onion.
Sauteed onion until golden brown, add celery into the pan and let them sweat.
Add chicken stock and mix almost same amount of water into the pan and let it simmer for a few minutes. (I do not like to use all chicken stock because it's too salty)
Poor the mixture into the slow cooker.
Add potato and carrot and garlic (crushed). (If you have bay leaves, add them too)
Turn the slow cooker heat to high.
When the soup starts boiling, add the chicken thigh.
After a few hours of boiling, take the chicken thighs out, and shred them. At this point they're basically falling out from the bones.
Add pasta (and cherry tomatoes if you have. If you'd like to thicken the soup, you can add a tablespoon of plain flour too) to the boiling soup and cook till al Dante.
Serve.
So what makes my chicken stew so ugly? Step 9! While my pasta is finally al Dante, my baby started to cry for milk. There you go... My fusili was left in the soup for way too long and soak up all the moisture! When I finally got to eat, sitting beside the satisfied baby, it was already 3pm something.
But ugly as it is, I need not to worry for my dinner later. Wonderful (^.^)