The Man loves stew, anything stew, and his favourite is seafood stew. So far he had called the seafood stew in DB Bistro his favourite, best stew he can find in the town.
But seafood is so hard to handle, and so hard to get very fresh seafood, no luck to get them from supermarket and I had not ventured to any wet market as of yet. I'm scared! :P
As per The Man's request to try stew some time ago, I tried making chicken stew. And he loves it :) He likes it so much, we've made for ourselves and also when we had his friends invited to our party. What's best about stew? You keep the leftovers in the fridge, and they taste even better the next day! Yay!
I've always cooked the clear soup based chicken stew. And to my surprise, even we have loved it so much, I've never had a proper photo taken of the stew. I'll make sure I take a nice one and share the recipe in the future.
Anyway, today I decided to try with a tomato soup based chicken stew. It's nice and fragrant, but somehow I prefer the clear soup ones that we've always eaten.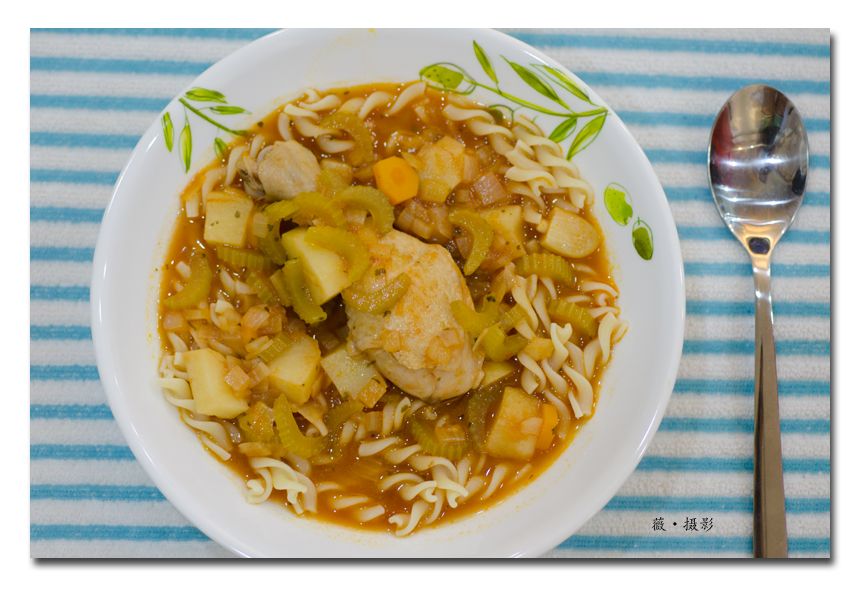 Chicken stew
Ingredients:
1. 2 chicken drumsticks
2. 1 big potato
3. 1 carrot
4. 2 stalks of celery
5. 1/2 onion
6. 2 cloves of garlic
7. 500ml chicken stock
8. 3-4tbsp of tomato paste
9. Dried herbs
Method:
1. Preheat the oven to 180 degree Celsius
2. Dice potato, carrot, celery and onion
3. Slightly fry the chicken drumstick on the pan until they're slightly brown and take them out from the pan and leave them aside
4. Sautee onion and celery
5. Add carrots, potatoes, garlic (slightly smash the cloves), and drumsticks into the pan
6. Stir in the tomato paste and add the chicken stock and herbs
7. Cover the pan and bring the soup to simmer
8. Pour the soup into a casserole and put into the oven for 30mins
9. Serve with pasta or bread
The recipe had suggested to add 1kg of drumsticks to the 500ml chicken stock. I always prefer more soup than the chicken, and more potatoes than chicken, I've chose to only use two drumstick. You can tweak the amount to your preference.
I think for a tomato paste based soup, I would still prefer a minestrone. But oh well, this is good enough for me tomorrow, I'll just have to heat my dinner up!