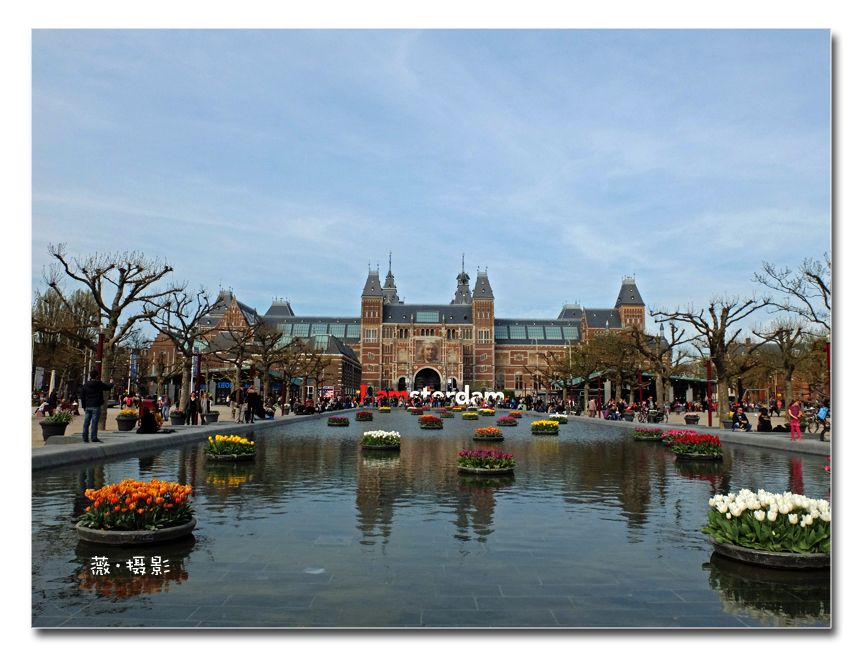 Rijksmuseum
These are the Whys you should do it!
1. Amsterdamers are friendly!
Amsterdamers are so friendly, I really love them! It's not easy to encounter such friendliness especially when you're Asians. Discriminations towards different skin colour is still a real thing whether or not you'd like to admit. But in Amsterdam, you hardly have this issue. People are friendly and willing to help.
I've encountered strangers talking to me on the bus and introducing and explaining the town to me. Not something you'll encounter when you go France for sure. (In France, you'll be delighted they ever answer your questions.)
2. They speak English!
Language is not a barrier in Amsterdam! If you're not a very brave traveller, always afraid of people not speaking the language you speak. Fret not, Amsterdamers speak very fluent English. No issues on signboards, no issues on asking for routes, no issues on ordering food...
3. It's baby friendly!
Yay! I have my concern before we flew to Amsterdam. Yes I've been there before, but without the baby and stroller. I've never took any notice on how easy was it to board a bus or a tram.
Well, now that we've traveled with a baby and a stroller. I can safely tell you, Amsterdam is not that hard to travel! Boarding trams and buses are not that hard because the stairs are relatively low, you can easily carry the stroller. And usually, other passengers would offer help too!
On diaper changing issue, well, you've got to be very creative. Washrooms are really small in most of the restaurants. Most of them have got no diaper changing station. We tried bringing chairs into the toilet to change the baby. If the weather is good, just change the baby outdoor on a bench or on stroller, it's much easier.
4. Museums museums museums~~~
There are plenty of museums, from important museums like Van Gogh and Rijksmuseum. To smaller museums like handbags museum, cheese museum, tulips museum... You will never get bored!
5. Inspiration to decorate your house
Amsterdamers are creative, most of them. Decorations in houses and shops are really cute, loud, daring, cozy, unique... You fall in love most of the time, first sight. By paying more attention, you can also get more ideas on how to decorate your house too!
6. Trains are really convenient!
Trains are really convenient to travel from Amsterdam to other smaller towns nearby, i.e. Haarlem, Delft, Alkmaar, Leiden... Most of them within an hour of train ride! They're great because they're less crowded than Amsterdam and still plenty to do.
7. Tourism information and packages easily available
Preparation and homework before your trip to Amsterdam is rather easy, unlike travelling to France and Spain. Websites are in multiple languages. Trains information are clear. If you ever have any questions, email and ask, they always reply within a day!
Besides, there are plenty of cards provide discounts to tourists, for example I Amsterdam card. The only headache is, which card suits you the most!
8. Wifi~~
When we were in Spain and France years ago, Wifi is really hard to get. We always have to make sure we have all the information required before we go out from hotel.
In Amsterdam, we're not afraid, we can easily get connections from cafe and check the required information.
9. Pots are legal!
If you're party kinda person, Amsterdam is your place. They even sell cannabis seed, plant your own when you go home.
10. This place is simply beautiful~
Book your tickets and fly to Amsterdam~