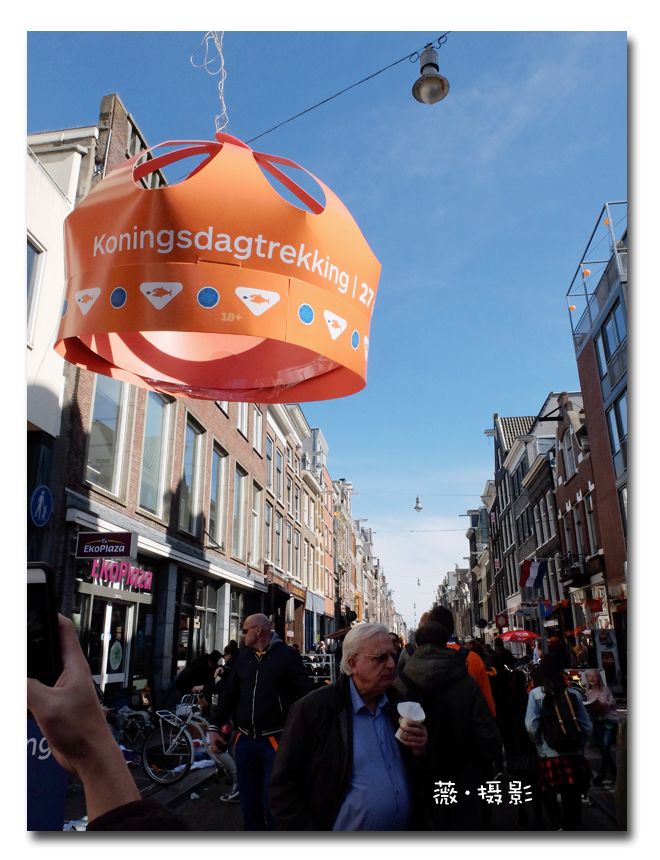 King's Day
I was excited and at the same time anxious about celebrating King's Day in Amsterdam during our trip. Excited because I got to see how people celebrate one of the biggest holiday in their country! And the holiday wasn't X'mas or New Year which are celebrated across the whole world, I like to experience something different. Anxious, because celebration and party on the street sound like trouble in the making to me. I was worried if I am putting my baby in danger. I have my doubts, but we went on anyway.
Never try never know.
King's Day didn't go out as I planned. Most of the things don't when we're on the road, the beauty of free and easy travel. I planned to go Vondelpark, where it seems like one of the biggest celebration in the town. But we ended up too tired after almost a whole week, and not wanting to go too far from where we stayed. Besides, public transport service within the city was ceased during King's Day, to make way for street celebration. We really didn't want to walk.
I checked and got to know that Westerpark, where we stayed, have their celebration too. So we decided to stay put around our area. Besides, I've been wanting to go Westerpark for many days! It's 5 minutes away from where we stayed.
It's supposed to be a lazy day for us. We prepared ourselves, taking our own sweet time to get ready, and had simple breakfast at home before we headed out.
The moment we reached Westerpark, I fell in love with this place, immediately.
Westerpark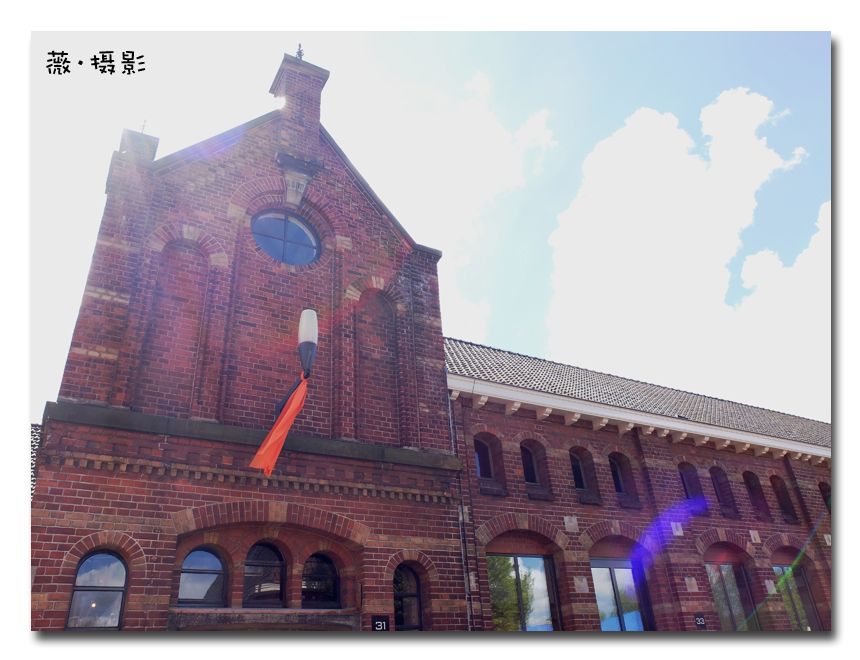 Westergasfabriek
And how could you not.
Westergasfabriek used to be gas factory until 1960's when natural gas was found in North Sea, and gas factory became obsolete. The gas factory was then converted into cultural park, with cinema, independent art shop and galleries, restaurants, cafes (
Best latte
), pubs etc. That's my kind of place.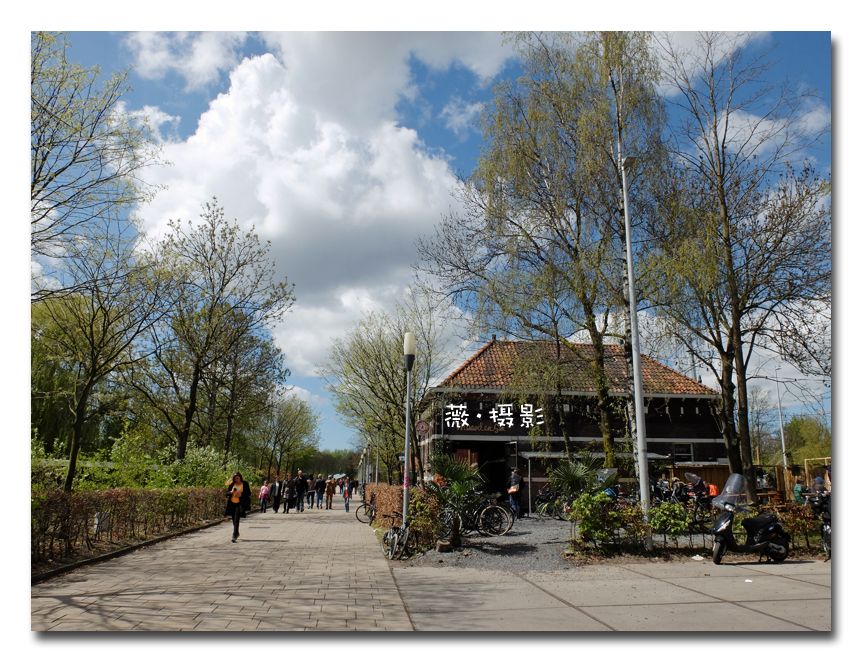 Some restaurants in Westerpark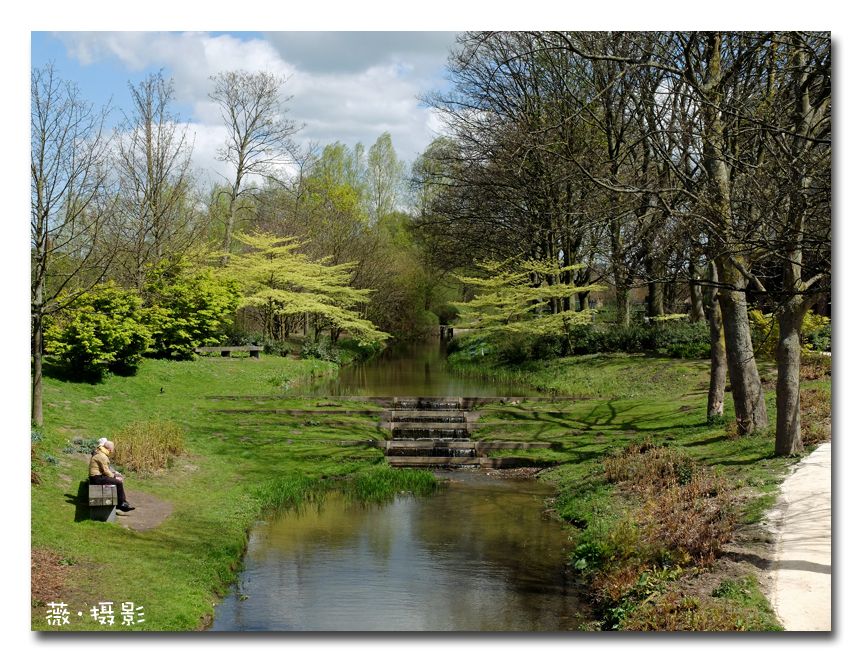 Peaceful
I wish I had all day
I wished we had come to Westerpark before King's Day when everything is open. I wish! It's such a lovely place, I could spend a whole day here.
On King's Day however, most shops are not open except for some cafes and restaurants. But fret not, there are stalls and food trucks at the park selling finger food, hotdogs, sandwiches, herrings, beers etc.
Besides, the highlights are for the kids. On King's Day, kids accompanied by their parents sell their second hand toys and books in the parks. It's really cute! We think it's really a good experience for the kids. The Man suggested we should come again when baby grows older.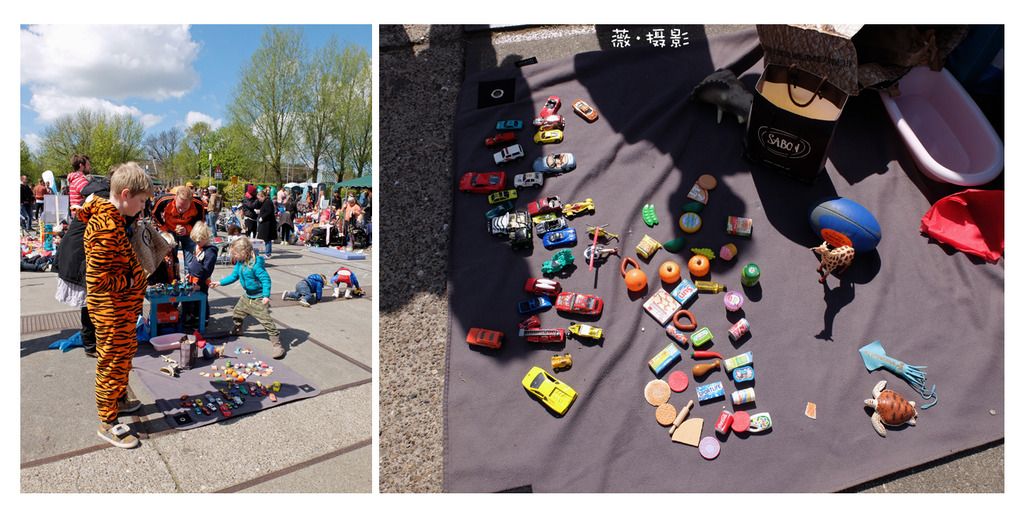 Tiger and his toy cars
The supportive parents and their kids
In case you didn't notice, almost everybody wear orange on King's Day. It's the official colour. It's not like people will go after you to kill you if you're not in one, but it's just really nice to fit in to wear the festive colour.
We took a stroll in the park, and eventually walked out of the park to Harlemeerstraat. We walked pass Harlmeerstraat almost everyday during the trip. And on those days, it's quiet, peaceful. But on King's Day, it's totally different! It's crowded, everybody's dancing on the street, including us! Shops are not open, but temporary food stalls are everywhere! I have concerns that we may not have anything to eat on King's Day, you can't imagine how relieved I can be to see all these food stalls!
And the canals are full of parties! Boats after boats of overloading party people, exploding their not so nice party music, parading the cities. And of course, they're all holding the booze.
A boat full of party girls
It's really interesting to be in Amsterdam on King's Day. There's something for everybody.
If you're party kinda person, go to bars and pubs, or rent a boat like these people!
If you're family kinda person, with kids wanting to sell off their toys, go on and set up your stalls in the park.
If you just want to make some money, open a stall, sell some finger foods.
If you like concerts, there are plenty! Check them out and book your tickets early!
If you're like us, just want to soak up the mood, go on, walk the city!
Turns out, parties on the street doesn't mean chaos. It's fun, I didn't feel unsafe at all. Everything is in control. Besides, I saw something really interesting.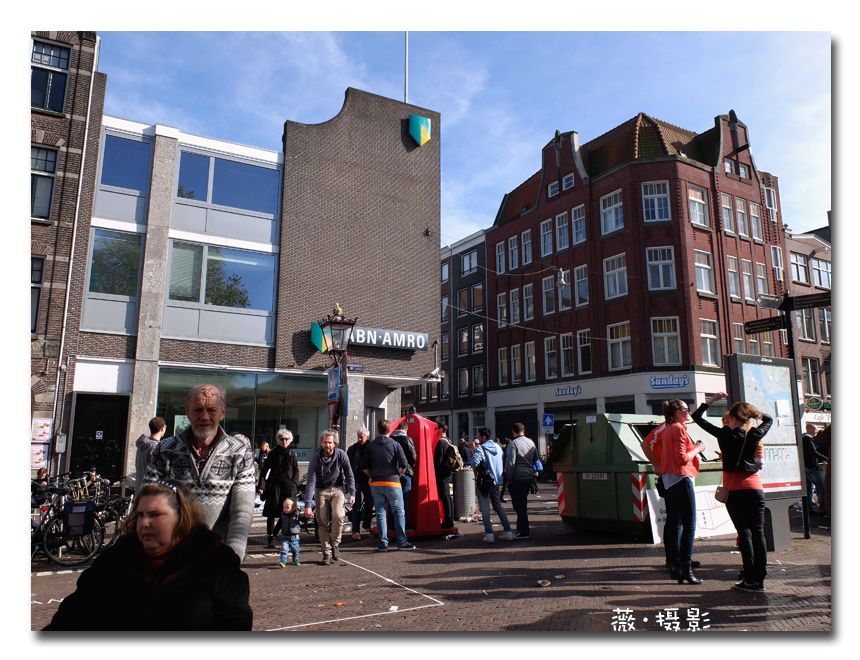 See the red stall in front of ABN-AMRO? It's a mobile toilet for the men! Sorry strangers, it's just really interesting I have to take a snap!
Will I really be back again like what The Man suggested? I don't know... After all, I may, because I really like Amsterdam.
Things to take note on King's Day:
Most of the shops are not open. Even if they are, they may only be open for a few hours. Do check with the shops before King's Day.

Most attractions are open on King's Day, i.e. Van Gogh Museum, Rijksmuseum, Anne Frank House. But do expect CROWDS! But still, do check the attraction on their opening hours prior visiting to prevent disappointment.

Even supermarkets are not open all day on King's Day. If there's a need to stock up, do it one day earlier.

Try not to buy your plane ticket to leave or to arrive Amsterdam on King's Day, because there will be no public transport or taxi available in the city. If you do, you have to walk to your hotel or lodging.

Wear orange.

Be happy and dance :)