I didn't use to cook a lot, only a couple of times a week.
When I stayed with my housemate years back, she always cooked so I always got to eat :)
I always joked that I'd marry her if we're lesbians or if I were a guy. Haha! Well, obviously that didn't happen, but one simple dish that I've learned to from her, and always been cooking after we moved out, is this salmon miso soup. Well, we didn't really have a name for the dish, I just kinda name it anyway I like it.
It's simple because everything happen in one pot. And it's healthy and nutritious because you've got everything you need in one meal.
I love everything that happens in one pot! Especially now that I have a rolling baby in the living room!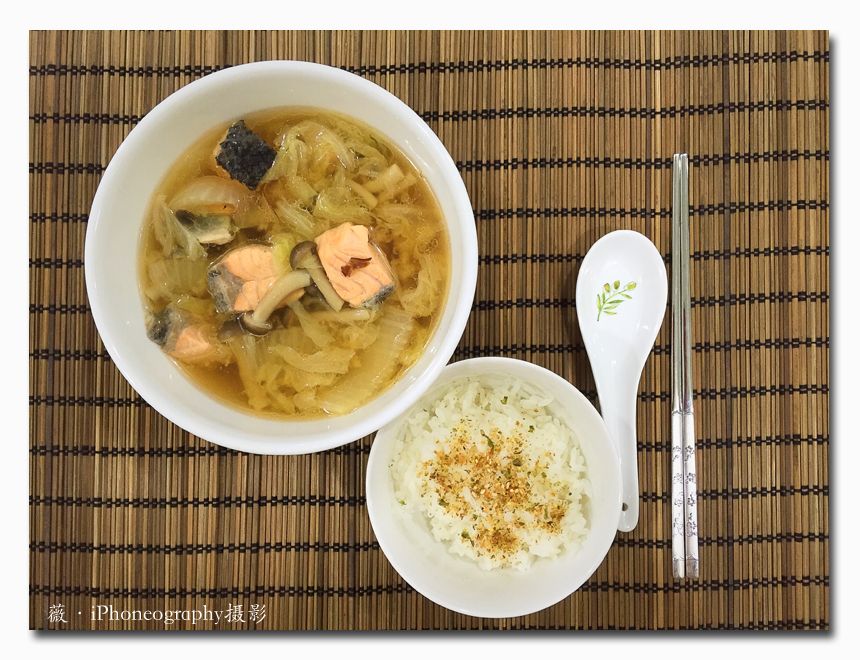 Salmon miso soup with rice topped with furikake
Ingredients:
Cabbage

Carrot

Enoki mushrooms (optional)

Tofu

Salmon

Smoked bonito flakes

Miso paste
First, prepare the stock. Add bonito flakes into the boiling water and simmer for 20-30 minutes. Cook your rice at the same time. If you do not have bonito flakes, you can also cook them in chicken stock.

Fish the bonito flakes out.

Add cabbage, carrot and miso paste. Simmer for 15-20 minutes.

Add salmon, cook for 10 minutes.

Add tofu and enoki mushrooms, cook for 5 minutes.

Sprinkle furikake on the rice.

Serve.
Simple and quick, and most important of all, healthy and nutritious! Good for a lazy day :)