How on Earth did I even come into this dish that sounded so pretentious -- Potage Parmentier?? What does it mean anyway?
It happened on one lazy afternoon at home in Penang. I sat down with my Mom at the garden, both reading on our own. I was supposed to read "Cloud Atlas", but my "pregnant shrunk brain" couldn't take the literacy and sophisticated writing style no more. So I switch to "Julie & Julia" which I simply took from my sister's shelf.
Potage Parmentier, according to Julie, simply means potato and leak soup. Julie had described how simple and easy to make this fantastic no frill soup, how she and Eric (her husband) cleaned the pot! That's how, I decided to try.
Because, potatoes are my favourite!
And, it seems easy!
I do not have Julia Child's recipe books, so I googled. And I read a few blogs before I decided which to use. (
List of blogs: Popsugar, The Doctor's Kitchen, food.com
)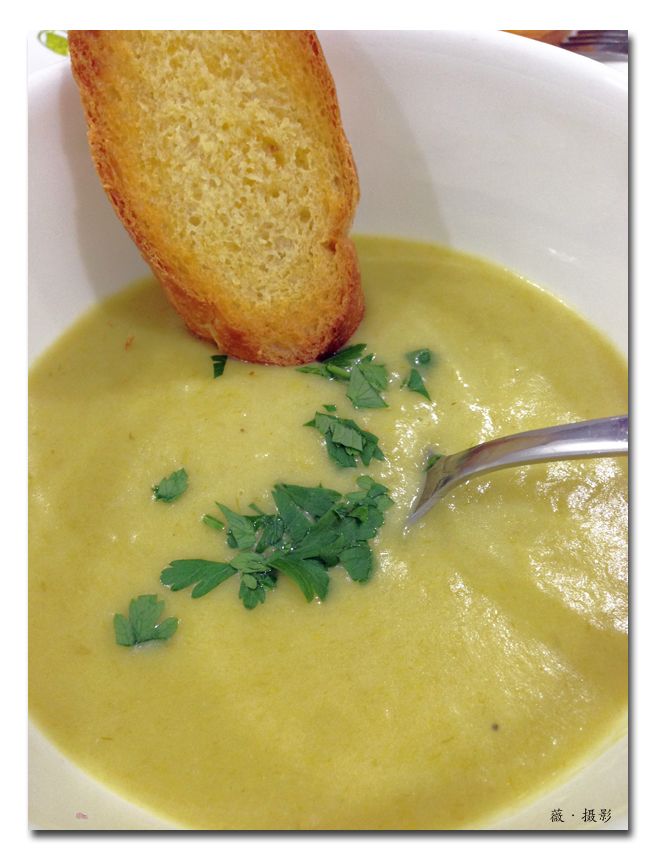 First trial of potage parmentier (taken with iPhone)
The soup turned out okay, not fantastic just okay. I used chicken stock as suggested so I didn't add any salt. But The Man thought I could have added some, it's still bland for his taste bud. But to me, it's just nice, I didn't like it too salty.
As we swept clean the entire pot (
that is something good about The Man, even the food wasn't fantastic, he will always help me to sweep them clean!
), we found there was a bitter after taste. So, I googled again after the meal. And I found out I'm not supposed to cook the green leafy part of the leek! Because, guess what, they're BITTER!
Dumb nook!
So now I know what's the problem, perhaps I shall cook it again next week? (^.^)
I bet the second one will be even better :)