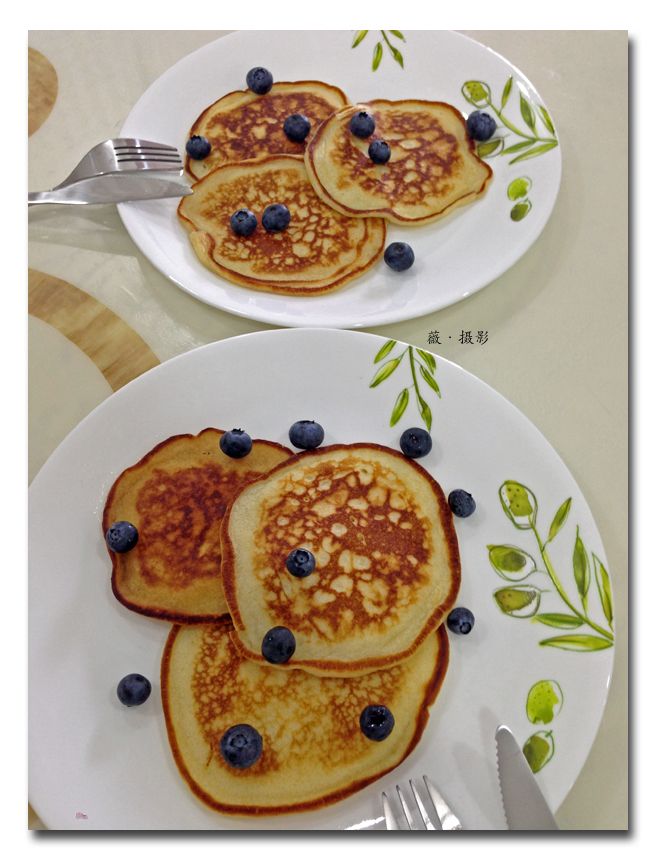 American pancakes for breakfast (taken with iPhone)
What's better than waking up on weekends with prepared batter for pancakes? Well, prepared breakfast!
For my case, there will only be prepared batter. I couldn't resist to buy a 600ml of butter milk from supermarket yesterday. I've came across this so many times when buying milk or yogurt in chilled section but never bought. I'm curious but never try.
And then, I watched
French Food at Home by Laura Calder
yesterday morning, and saw how she used butter milk to make one of the most beautiful scrambled eggs with it. And I thought, well, why not?
That's how the 600ml butter milk ended up in my fridge.
Before I moved on to the scrambled egg, I saw the blueberry pancakes recipes on the butter milk packaging. I did not have enough blueberries in the fridge for the flavoured pancakes, so I made the plain versions of it, and to go with the blueberries that have left in fridge.
Let me share the amended version recipe here:
Ingredients (for 10 pancakes):
1.5 cups self raising flour

2 tbsp caster sugar

375ml butter milk

1 egg, lightly beaten

1 tbsp melted butter
Method:
Sift flour into a bowl.

Add sugar, butter milk, egg and butter. (Make sure all the ingredients are in room temperature)

Beat and mix the ingredients until the batter is smooth.

Preheat a non stick pan, and oil then pan over a medium heat.

Cook the pancake one at a time by pouring the batter with a ladle.

Cook the pancakes until bubbles appear in the uncooked batter. Then, turn the pancake over and cook until golden.

Serve with maple syrup or honey with butter.

Also, top with any fruits you'd like.
Enjoy!~

(P.S. One thing to take note of, please do not try to fry the pancakes with butter, it'll turn out like the darker one in the picture)