Chickpea is one of my favourite food. I like chickpea so much I can have
completely vegetarian chickpea sandwich
(I'm generally a carnivore). I always order a chickpea curry from my favourite Indian stall when we go there for lunch during weekdays. And I adore the hummus dip that my uncle made for us to go along with potato chips.
Chickpeas!!! Yummy!!
Good thing they have never stopped pregnant woman from eating chickpeas. And I've tried to make chickpea pasta salad and chickpea salad recently. I love both of them but let me share chickpea salad here.
Chickpea Salad for dinner
Ingredients (I made a big bowl for myself as dinner):
Chickpea (~1/3 of a 400g can of chickpea)

A handful of green peas. If you like to have sweeter addition in your salad, just add more peas

5-10 Cherry tomatoes, depending on the sizes (In this case I bought tomato amoroso from Cold Storage, it's very expensive but it's really delicious. 15 tomatoes for $4.95!)

Half of a Japanese cucumber

Half of an onion

A handful of parsley, chopped
1 tbsp extra virgin olive oil

1 tbsp of Balsamic vinegar

1 tsp Dijon mustard

A clove of smashed garlic

Pinch of salt

Pinch of pepper

1-2 tbsp of lemon juice
Cook the green peas in boiling water for one minute, wash them with cold water to prevent further cooking

Toast the chickpeas in a pan for a few minutes

Dice ingredients 3-5 into small cubes
Mix all the ingredients for dressing in a bowl and whisk them to ensure they mix well
Put all the ingredients in a bowl, throw the smashed garlic away from the dressing before mixing in. You can keep this in fridge to serve them cold too.
If you do not like the strong pungent smell from onions, you could sauté them before adding into the salad. I've tried both raw and sauté, and I personally prefer the raw onions. It's all up to your preference.
Love the colours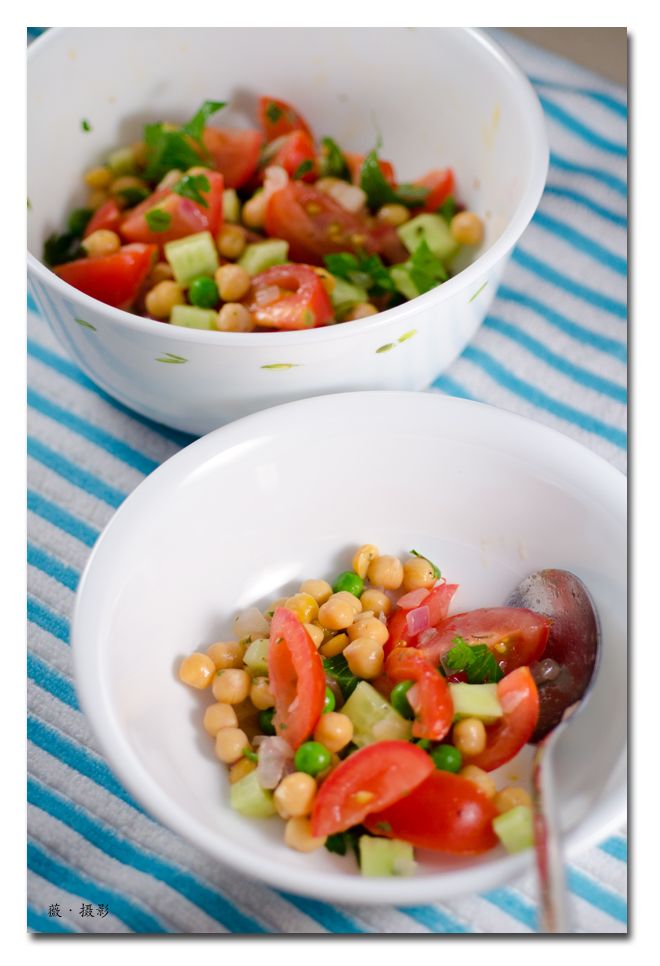 Yum!
Most of the chickpea salads on the internet use feta cheese for toppings. But due to the fact that pregnant women should stay away from soft cheese, I referred a few recipes and came out with this version of my own. I would definitely love to eat the ones with feta cheese. But oh well, I'll just have to wait for a few more months.
Try it if you want something healthy and filling at the same time =)