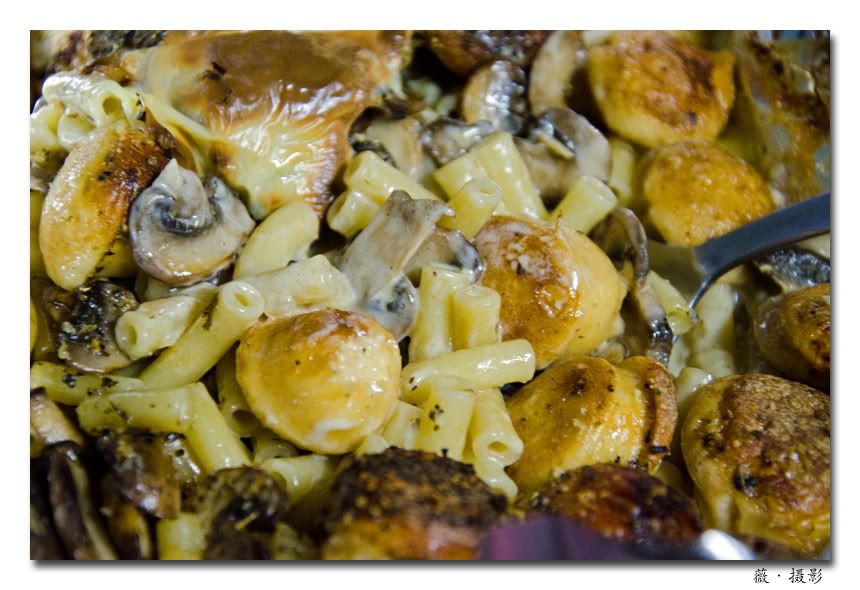 This was the dinner that I just cooked in oven. I cooked exactly the same dinner two days ago, it didn't taste very good, so I decided to cook them again (I have got no choice, with all the ingredients around).
And I'm glad, today the dinner turned out just well!
Ingredients:
Pasta of your choice
Delicious sausages (I picked chicken cheese sausage)
Brown button mushrooms
Clove of garlic
Seasoning: salt, pepper, italian herbs, white wine cooking sauce
Butter
Cream
Mix of cheese: Parmesan and Cheddar
Methods:
Cook the pasta and preheat the oven at 200 degree Celcius
At the same time, slice mushrooms and sausages, and chop the garlic
Heat up the pan, and sautee the garlic with butter
When the garlic turned golden, add mushrooms into the pan
Fry the mushrooms until they turned brown
Remove them from the pan
Add butter into the pan, fry the sausages
Strain the pasta from water
When the sausages are done, add in the mushrooms and pasta
Stir the ingredients, add salt and pepper to season
Then, add enough amount of white wine cooking sauce and cream, sprinkle Parmesan cheese and stir well
Pour the ingredients in the pan into a baking pan
Sprinkle herbs and cheese on the top
Bake the pasta in the oven for approximately 15minutes
Serve :)
The only differences for the dinner I made today and two days ago, were the garlic and the amount of cream. More cream seems to taste better. And with garlic, everything does taste much better :)
Enjoy your dinner!