Confession 1: I have not been a good girl, I didn't eat enough vegetables to keep my fiber intake sufficient on daily basis.
That is why, I'm keeping this conscious mind of mine and start cooking more fiber for myself.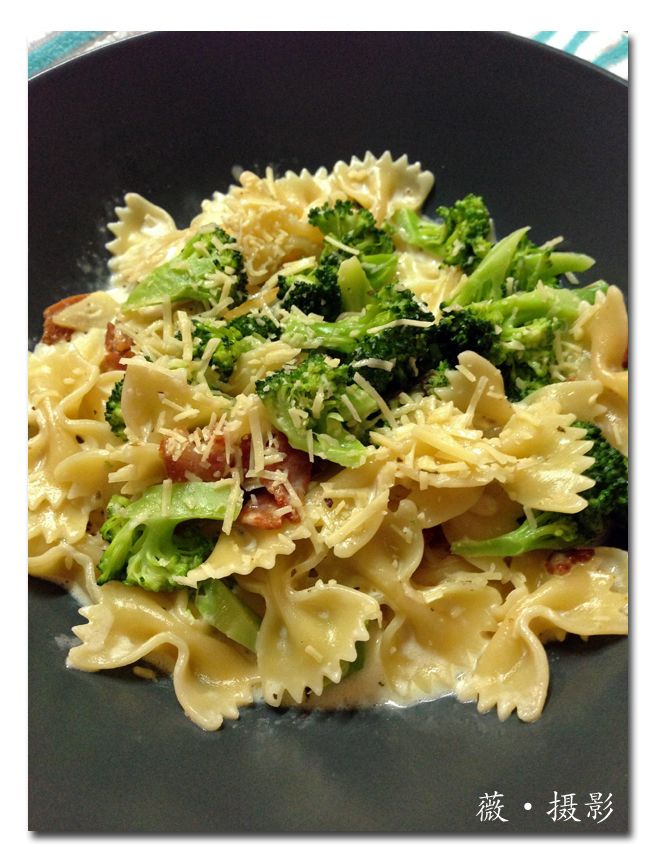 Sorry for the quality, it was taken with my iPhone
My favourite fiber will be spinach. However, it's not easy to get spinach. I do have to get off at other stations, make a detour to Cold Storage or Fair Price Finest to get them. I stumbled upon someone else' FB and saw a creamy pasta with broccoli and I thought I ought to make myself one too!
Ingredients (serves 1):
Pasta of your choice (Recommended to use either farfalle or shell pasta)
Broccoli, cut into florets (as much as you want! It's healthy (= )
Bacon, diced into small pieces (maximum two slides)
A clove of garlic, sliced
Cooking cream (approx. 80ml) (Confession 3: I've never measured the volume of cream I used, I pour in with my
Grated Parmesan cheese
Ground pepper
Herbs (Confession 2: I use mixed herbs that come in bottles)
1/2 tablespoon of butter
Methods:
Cook the pasta until al Dante.
While waiting for the pasta to cook, pan fried the diced bacon with butter.
When the bacon is golden brown and crispy, add in the sliced garlic.
Pour the cooking cream into the pan when the garlic is turned golden brown, and let it simmer.
At the last two minutes of the pasta cooking, pour in the broccoli.
Drain the pasta and broccoli at once when it's done.
Pour pasta and broccoli into the cream mixture, add ground pepper and herbs.
Stir.
Serve the pasta on plate, dress with grated Parmesan cheese.
Serve =)
Yum~ With this recipe, I guess I can promise to take more fiber ^^