I've been thinking about making a pizza for some time.
So, I couldn't wait anymore and dragged Yee Hau to get pizza ingredients yesterday to prepare for today's pizza day!
So, making a pizza for the first time is kind of stressful for me. I want a thin crust crispy pizza! I visited multiple websites and blogs for references, and called up my mom for more personalized instructions. (Kia Hooi told me she did in fact remember my mom's homemade frozen pizza, back then when we were in secondary school)
After multiple googles, I down selected to
one on simplerecipes.com
and
Jamie Oliver
. Do refer to these sites for making a good pizza dough.
My pizza journey started last night, when I was making some pizza notes! Since most of the websites recipes are calling for 2 or more pizzas, I have to recalculate the amount of my pizza.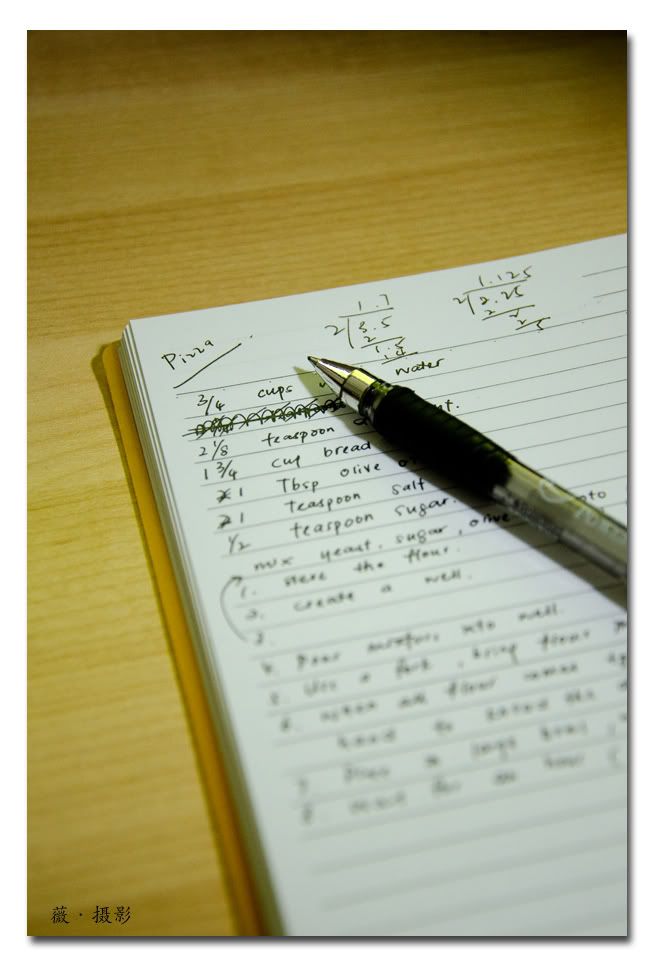 Ingredients for dough (for two persons):
3/4 cups of warm water
2 1/8 teaspoon of dry yeast
1 3/4 cup of bread flour
1 tbsp of olive oil
1 tsp of salt
1/2 tsp of sugar
Steps:
Sieve the flour on a clean working surface

Mix the dry yeast, sugar, salt, olive oil into water and leave for a few minutes.
Create a well in the flour.
Pour the mixture into the well.
Use a fork to bring the flour in gradually.
When all flour comes together, knead the dough until the dough feels springy.
Place the dough into a large bowl and cover it with damp cloth.
Wait for 1-2hour, for the dough to double its size.
The Toppings
You can use anything for your toppings. I made a big pizza with portobello mushroom, polish sausages, cherry tomato, cheddar & parmesan cheese and a small pizza with just mozzarella cheese.
When the dough is ready, knead the dough (Jamie Oliver called it knocking-out-the-air). And they are ready to use.
Preheat the oven to 200 degree Celcius.

Laid the dough thin flat on the flour dusted pizza pan, and poke them with a fork. (My mom said this helps!)

Then, spread tomato puree thinly on the surface (my mom said it's important to keep it thinly spread for not wetting the dough too much) and arrange the toppings you've prepared.

Bake the pizza at 200 degree celcius for 15-18 minutes.

Dress the pizzas with fresh basil leaves or arrowhead.

Serve

And TADAA!~~
My first pizza! Yummy!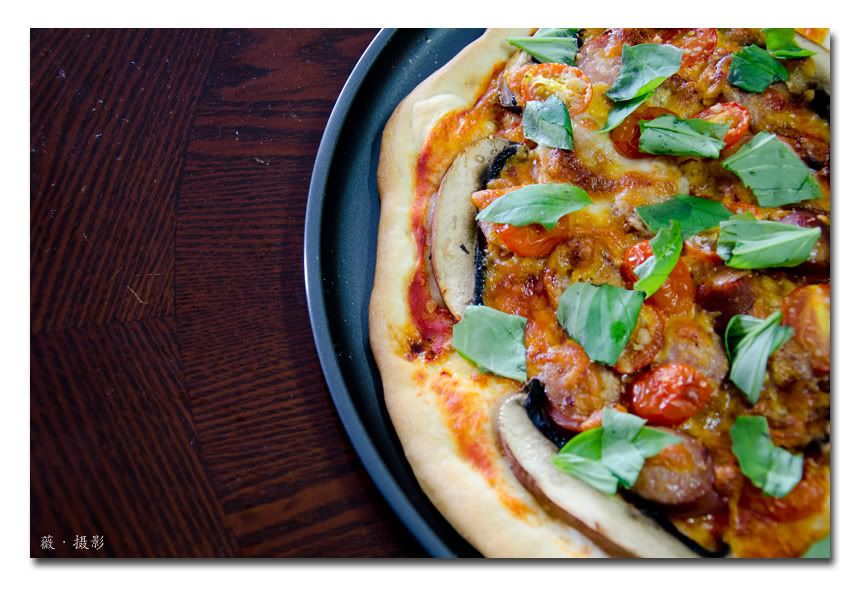 My Margherita Pizza, failed in looks but still delicious. I think I baked this for a little too long.
Well, all in all, I have to say I'm really proud of myself (ah-hem). My first pizza attempt was successful. The man was happy and satisfied with the thin crust crispy pizza! And I rewarded myself with a (few) glass of red wine after meal. Still drinking at this moment while I'm writing this :)
Happy happy!
Froze one in fridge for the man's dinner tomorrow when I'll be out for Butterfly Lover Violin Concerto concert with friends.