Few days ago, baby turned 9 months old.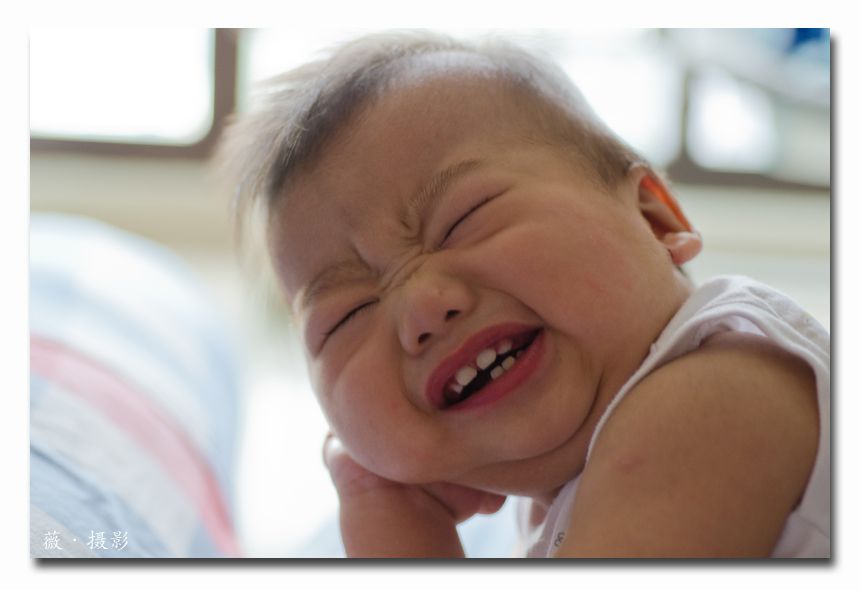 Grin from ear to ear
Look at him, happy to be a big boy!
He has 7 teeth as of today, 4 on the top, 3 at the bottom. Why is it not 8? I do not understand. Apart from growing teeth much faster than other babies, my baby is a lazy little one. He wouldn't try doing anything because he knows we will do it for him. He will just lie there, and look at you with his innocent yet manipulative look.
He hasn't crawled. He tried to, move his tummy bit by bit forward a few times. To follow where the music from, but after a few trials, he stopped. Why? Again, I do not understand. Maybe he felt he has known how to do it, and it's not any fun anyway.
He doesn't like his solid food. He's tried banana, apples, carrots, potatoes, sweet potatoes, cereal, brown rice cereal, avocado, mango, and didn't fall in love in any of them. Except, durians! He ate durians last week and he was so happy he wanted more! OMG.
He loves music. He will dance and sway when we sing his favourite songs. He will dance to the music I turn on with my PC or mobile phone for him. He will calm down when I play "Whistle while you work" on my mobile for him. Music is my tool.
He's also a very loving baby. He has learned how to give us kisses since he was about 7 months. He will always pull our faces close to him to kiss. This morning, as usual he's a good boy lying in his cot playing in his own world before I discovered he's awake. I washed my hands and opened the curtains before I come around to carry him. The moment I lifted him, he shouted "wow" happily and give me a big kiss on the cheek. Isn't that lovely? I guess he's really happy I finally found out he's awake and decided to carry him. How adorable!
9 months into the journey, it's just a beginning.