Valentine's day will never be the same anymore.
Not that we always celebrate it as the most important day of the year, but most of the years we do at least have some nice meals. Some years, we have gifts. But seriously after being together for more than 10 years, you just do not know what to buy anymore for so many occasions in a year. i.e. Valentine's day, anniversaries, birthdays, Christmas.
This year, with the little baby along, we want to have the celebration at home. The Man suggested cheese fondue. With very little time for preparation, we bought a packet cheese fondue instead of doing it from scratch (It wasn't good, next time I'll do from scratch). And we prepared broccoli, carrot, tiger prawn, "big head" prawn and baguette. We intended to add potatoes and sausages initially, but thank goodness we cut that out from menu! It's just way too full!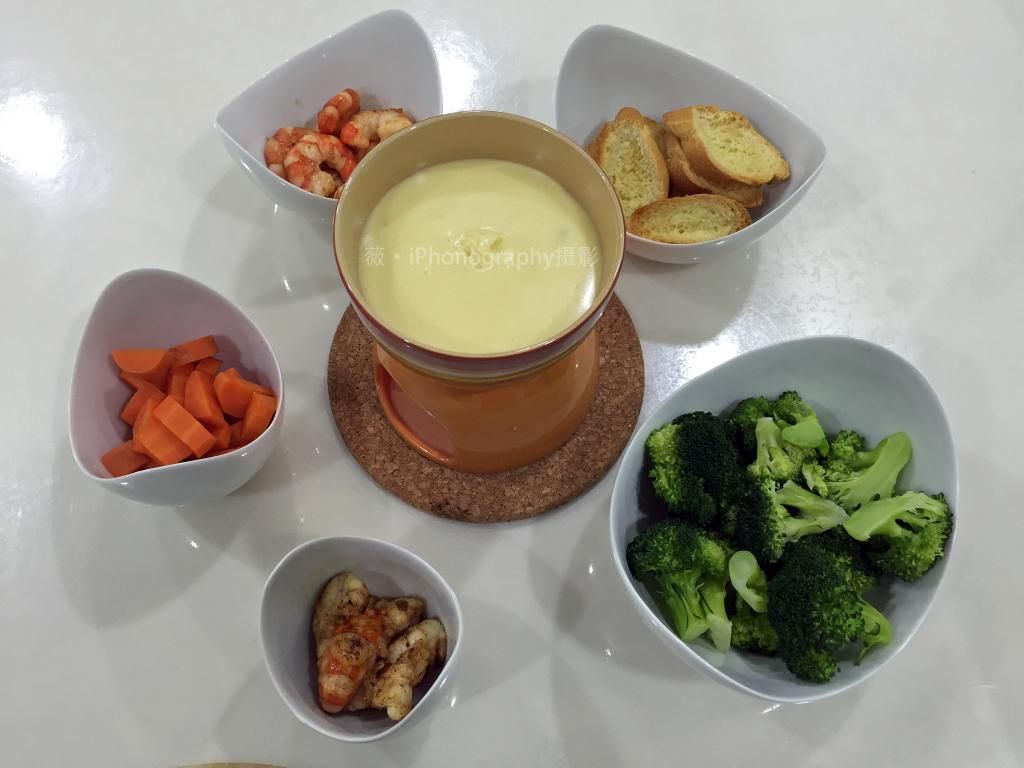 Cheese fondue, go with boiled broccoli, steamed carrots, butter pan fried tiger prawns and "big head" prawns (prawns were specially prepared by The Man) and butter toasted baguette.
When you have a baby, a celebration at home was not as simple as merely prepare a meal. It's a crazy ordeal of parents running between the kitchen and the baby. Say for example when The Man was cutting and washing all the raw ingredients, I was patting the tired baby for a nap while pumping milk. When baby was asleep, I finished my pump and ran to help The Man. When I was steaming the carrots and cooking the broccoli, baby cried. The Man had to pat the baby while I continue. And this continued several rounds until everything was prepared.
Of all the cakes I've ever baked (Not that I baked a lot), The Man likes the
chocolate cake
. On the eve of V Day, I intended to bake it as a surprise desserts! But boy oh boy, my little baby refused to leave me alone. And so, surprise no more. I waited until The Man was back from work to take over the task to putting baby to sleep while I baked the cake.
And as I am blogging right now, I am actually pumping while The Man trying to get the too-awake-to-sleep-baby to sleep at 1am!
Celebration is not the same anymore. It takes extra effort to make things work. And it takes effort from both The Man and The Woman. Of course it's tiring at the end of the day, but it is always worth the effort.
Never take things for granted, never take love for granted.
(They're currently too tired to do anything but to fall asleep in living room while I am trying to finish this entry. I'll let them sleep for a while, especially the baby so that he's more deep into sleep before getting him into his crib. I guess we'll just have to cancel the plan to go Botanic Garden tomorrow morning.)