I do not want to say things that sound so cliche as time flies but time really does fly...
After the hectic Valentine's Day celebration, we were busy packing and off we went home for Chinese New Year celebration. The same gatherings and feasting never bored me. In fact, I've always been as happy as a school girl on holidays every time I go home for CNY.
The only difference this year, was I brought an excited baby home too. And having another being that was almost constantly more excited than you, was extremely tiring.
Baby turned five months before the end of CNY. And shortly after that, he discovered the fun of rolling over. And he kept doing it even at 12am. I could only sigh and watch him, and kept looking at the clock, asking myself... When is he going to stop?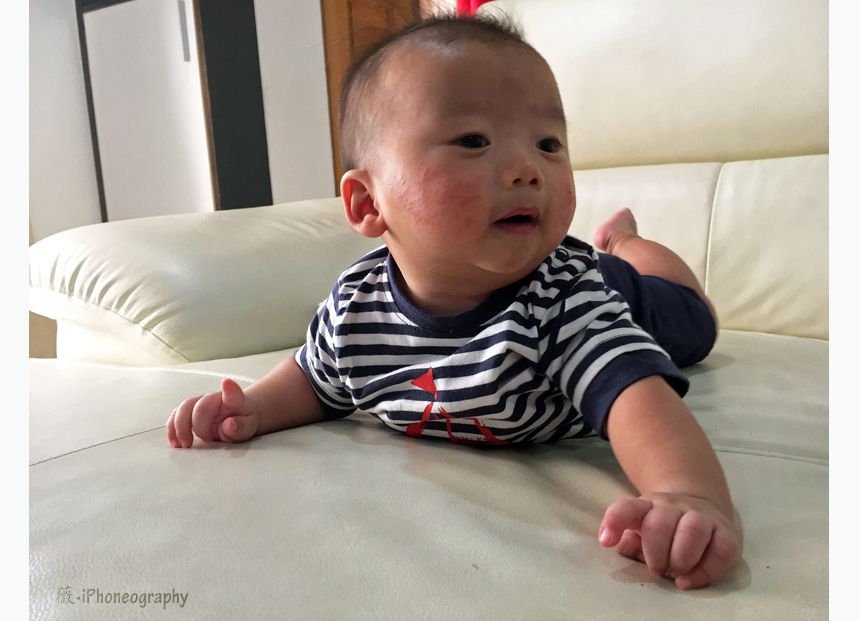 I'm five months old!
He developed serious rashes on his cheeks during CNY and we've received a lot of concerns from friends and relatives. Everybody, even strangers from the street offered us remedies on how to get rid of them. We've tried some of them but seriously nothing worked. Until we saw a doctor after CNY.
Thank you for all the concerns, baby is now getting his smooth and silky skin back =)
Development of a baby brings joy and headaches at the same time. Now that he's rolling, he must be on watched 24/7. He fell off the 4" mattress we placed in the living room for his nap time and activity time three times in two weeks.
The first time, I heard a soft thump. I quickly went to rescue but he clearly had no idea what had happened. He lied on the cold, hard floor, and still smiling at me. He had ZERO idea that he fell. That made mom and I laughed so hard.
The second time, his lower body was on the floor while the head remained on the mattress. For several minutes before we noticed and came to rescue, he tried very hard to hang in there. And try to kick himself back up.
The third time however, he's not so lucky. He fell hard and cried hard too. Good thing, it's just a 4" mattress.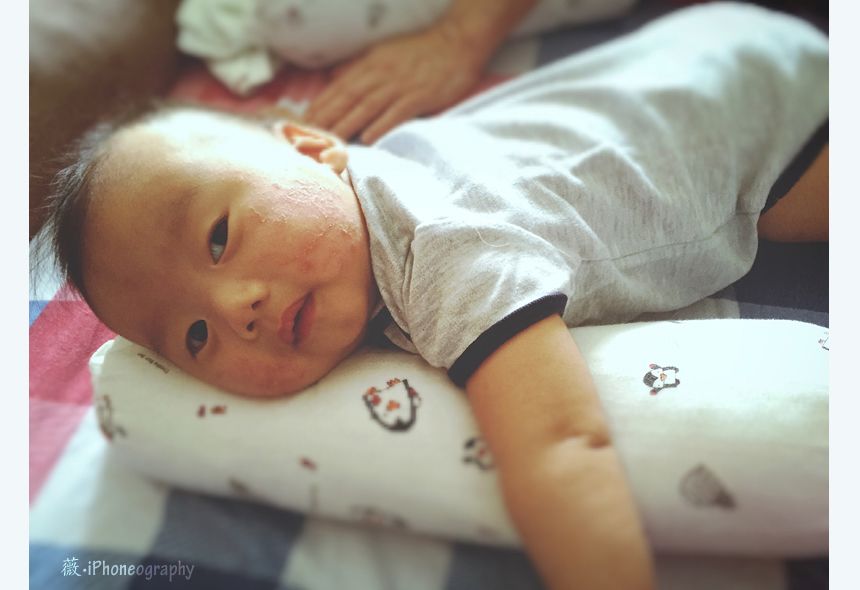 More often, we caught him stuck halfway because of soft toys and bolsters. Help help, I need to complete my roll over.
I've not been cooking or taking any photos of him (with my DSLR) for a long time. My mom came back with me and I fell back into my non disciplined life. And I could always blame it to the baby that I have no time and energy because I'm taking care of him full time. (Seriously, it's tired and time consuming taking care of a baby)
I think, I shall pick my camera up again!
Alright, tomorrow.