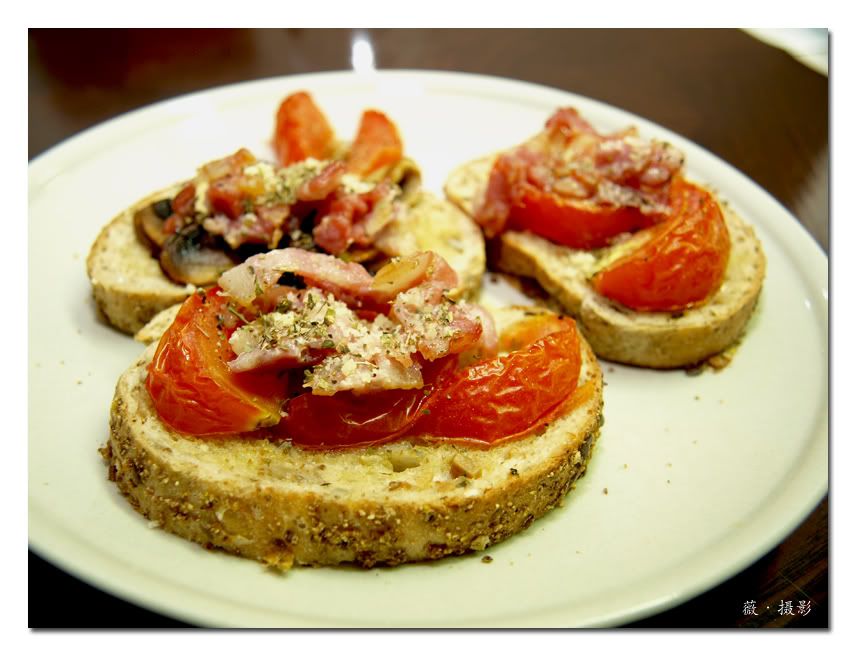 People say you pick up habits of your other half eventually.

For my case, it can be true, sometimes.

Yee Hau has some craze for baked/grilled tomatoes ever since we had big brekky at Bratwurst Cafe in Plaza Singapura. I didn't fancy it at first, but as I started to bake it for him, I started to like this too.

With the much anticipated excitement ahead (Eason's concert in Kuala Lumpur) this weekend, I have to start clearing some food in fridge. I decided to make a sandwich/pirated bruschetta with whatever I have.

I seasoned the tomato with pepper, baked them alongside with bacon, to let the oil and fragrant from the bacon to flow to the tomatoes. And then, I pan fried button mushroom with butter. At the last 3 minutes, I threw the bread into the oven.

Tadaa!~ And I seasoned with some herbs and cheese before served.

To my surprise, the tomato ones are better than the mushroom one =)

Go with a cup of chamomile tea, yummy! I'm happy that I'm back to kitchen again.